Delegation to China and Hong Kong
Delegation to China and Hong Kong
As part of our sustained efforts to support Indian SMEs' growth plans in new Emerging markets, we are taking a delegation to China and Hong Kong from Dec 18th - Dec 24th, 2019 for 4 city roadshow viz. Shanghai, Wuhan, Xuzhou and Hong Kong. The NASSCOM China and Hong Kong roadshow aims to explore new business and "co-create" opportunities for Indian IT SMEs with Chinese and Hong Kong-based companies in the areas of IOT/AI, Big Data, Industry 4.0 and Smart Manufacturing. Through our initiatives, we have already been able to help more than dozen Indian SME companies close business deals in China. You can find more information on our China initiatives on www.nasscomitcorridor.cn.
We expect about 10-20 Chinese/Hong Kong-based companies that are looking to partner with Indian IT companies from verticals such as Healthcare, Utilities, Telecommunication, Aerospace, Industrials, BFSI, Engineering and Manufacturing to join our business forums at each location.
While the detailed program is in works, here is the tentative program schedule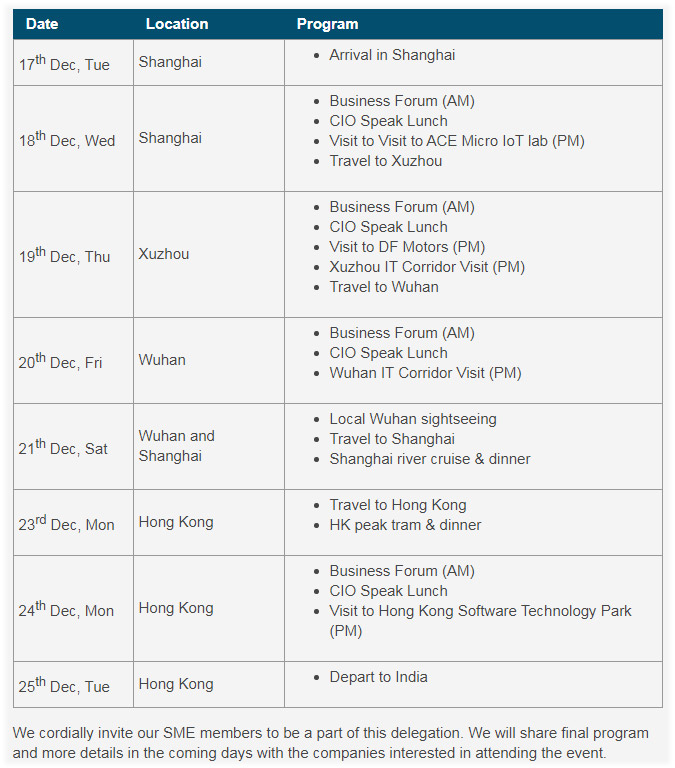 Commercials

Charged towards program management and participation fees. Delegates will have to budget for their travel including visa, ticket, lodging expenses separately. We will arrange local transport (by road) in China/ Hong Kong for the event attendees for travel to and from event location and airport wherever possible.

Fee/Delegate

Rs. 50,000

Rs. 40,000

Rs. 60,000

Visa Support

NASSCOM will provide supporting documentation for the visa.

This is a wonderful opportunity for our members to identify new business opportunities in China and Hong Kong. Look forward to your participation.

P.S. – We have limited seats and confirmation will be on first come basis.

Registration

To register, please fill the following form click here.
Date and time
Wednesday, December 18
th
, 2019 - 09:00 am
Tuesday, December 24
th
, 2019 - 05:00 pm
Registration
To register, please fill the following form  click here.